Photo News
WORK APOSTLESHIP HOLY HEARTS OF JESUS AND OF MARY
VIA R.CARABBA, 39 - 65126 PESCARA (Italy) - TEL.-FAX 085/4510608 - E-mail: op.a.@usa.net
Some of the most important moments in our association.
The apostolic benediction of the Holy Father
to Work Apostleship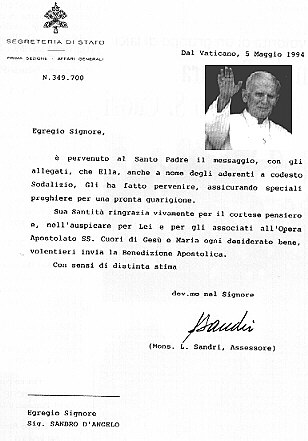 We sent the Holy Father who was at that moment a patient at the "Gemelli Hospital", in Rome, a greeting message expressing to His Holiness our humble prayers. In that occasion we made sure that all our printed material was sent including the Holy Hearts pictures, translated into ten languages. On 5th may the secretary office of the Vatican State, signed by Mgr. L. Sandri, sent the letter that we here by repropose with the Holy Father's apostolic benediction to the Work Apostleship and its followers. We thank, very moved the Holy Father Jean Paul II for the gift of his letter.
The Work Apostleship and Mother Teresa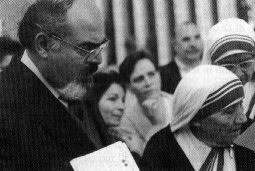 The Work Apostleship meets Mother Teresa of Calcutta in Rome, and gives her our association's printed pictures. In the photo there is our responsible Sandro D'Angelo with Mother Teresa.
Work Apostleship at the SER.MI.G. of Ernesto Olivero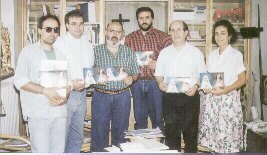 For a long time we had known the numerous initiatives of Missionary youth service, in favour of poorest people, its enthusiasm for humanitarian and solidarity activities, its constant and assiduous research and reception of unluckies people and more disadvantaged of the society. We also knew its founder's story, the tireless Ernesto Olivero, an active man, tireless organizer of peace and justice, whose exceptional organizational talent made possible to realize extraordinary initiatives in favour of young people and disadvantaged, even if among many difficulties. We felt spiritually close to him and to his wonderful clan of Christian love.
On 13th August 1996 we went and saw him in Turin, at his "Arsenal of peace", the old and abandoned military arsenal in Turin, a structure of about 50 thousand square metres, converted into a reception, shelter and meeting place for the poorest people, thanks to restoration work performed, free of charge, by numerous professional man. Missionary youth service founded in 1964 by Olivero's initiative, with his wipe and a group of friends, today is formed by a community of young people, couples of newly weds, priests, people who work but who try to take love, consolation and hope where there is poverty and there is all those who have been forgotten by our consumes society. Gospel with attentions on man is a constant point of reference of this community.
Andrea is a voluntary young and has shown us some of numerous plans realized by the community to share articles of clothing, medicinals and food among the poor and the victims of persecution, who are all over the world. Talking with Olivero, we gave him 30 thousand Holy Hearts pictures, translated into 14 languages, we have understood that the main aim of "Arsenal of peace", is to lead a Christian life, converted to God. So Ernesto Olivero has been able to involve many people in helping the poor according the real Christian spirit.
It was for us a very exciting experience because we have known the most important marks of friendship. We left Turin satisfied because here we have been received warmly and because we understood how much important are clarity and solidarity, prayer and the faith of the Church.
Sandro D'Angelo
With our Archibishop
in the day of Saint Francesco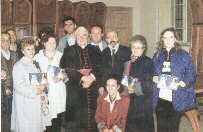 All those who are associated with the Work Apostleship Holy Hearts of Jesus and of Mary wanted to celebrate the first Friday of the month with our archibishop. It happened on his name day. Indeed on 4th October, when the Church celebrates Saint Francesco of Assisi, Patron Saint of Italy, this year was the first Friday of October. We have been invitated by the priest, Giuseppe Natoli, and we have met all together in Saint Cetteo Cathedral with our Archibishop Francesco Cuccarese, who told us with moving words. At the end of the Mass we have declared to him all our devoutness.
The benediction of the Archibishop
of Pescara Francesco Cuccarese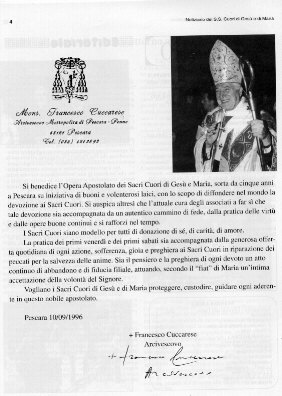 This Web site has been visited
times since 15th may 1997