| | |
| --- | --- |
| | |
In the year of the Jubilee the region of Abruzzo opens its arms to people who desire live great events of millenium beginning.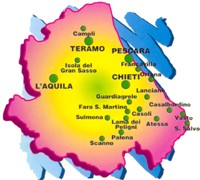 Abruzzo holds the culture of welcome, professionalism, which has been gained over many years. Modern structures and experience allow us to offer a wide range of solutions. In occasion of Jubilee Abruzzo is not only geographically near the eternal city, but in a spiritual way, too. In the past land of saints and hermits, today it is our destination in any itinary of faith. Abruzzo is the region of national park and protected area.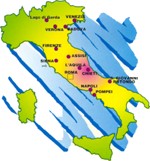 It still keeps popular traditions. The appointment of 2000 in not only an unique occasion to visit Italy in a historical moment, but to breath again scents and tastes of one's own land. Jubilee is one more reason to go back, for the ones who left long ago their own country and wish to be in Italy again.
Information: BAINO VIAGGI.
C.so Roma, 32 - 66034 Lanciano (Ch) - Italy
Tel. 00390872.710019 - 710890 Fax 00390872710890
E-mail: baino@webzone.it

Copyright: © Provincia di Chieti
Tutti i diritti riservati